Meran
Panorama room
2 to 3 persons (25 m²)
from € 130

per person including half board plus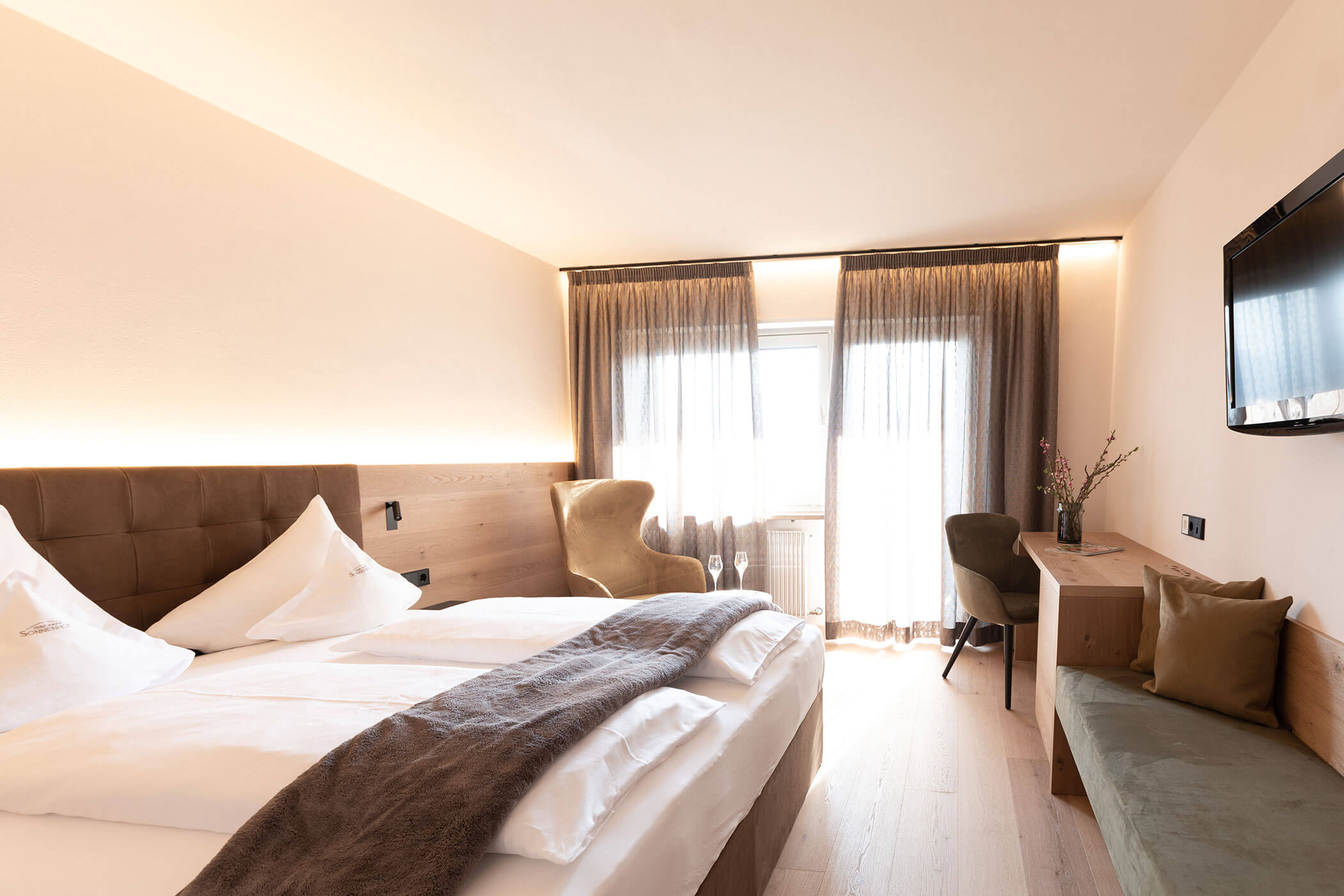 Gantkofel
Double room
2 persons (22 m²)
from € 125

per person including half board plus
Weißhorn
Panorama room
2 to 3 persons (25-29 m²)
from € 130

per person including half board plus
Mutspitz
Double room
2 persons (24 m²)
from € 122

per person including half board plus
Laugenspitz
Suite
2 to 4 persons (44 m²)
from € 144

per person including half board plus
Spronsersee
Loggia room
2 to 4 persons (27-30 m²)
from € 134

per person including half board plus
Klapfberg
Suite
2 to 4 persons (46 m²)
from € 147

per person including half board plus
Ifinger
Panorama room
2 to 3 persons (25 m²)
from € 125

per person including half board plus
Hochwart
Double room
2 to 3 persons (26 m²)
from € 125

per person including half board plus
Pfitschkopf
Double room
2 to 3 persons (25 m²)
from € 112

per person including half board plus
Kapelle
Double room
2 to 3 persons (30 m²)
from € 130

per person including half board plus
Hirzer
Single room
1 person (16 m²)
from € 130

per person including half board plus
Laugenspitz
Suite
2 to 4 persons (44 m²)
from € 144

per person including half board plus
Klapfberg
Suite
2 to 4 persons (46 m²)
from € 147

per person including half board plus
Meran
Panorama room
2 to 3 persons (25 m²)
from € 130

per person including half board plus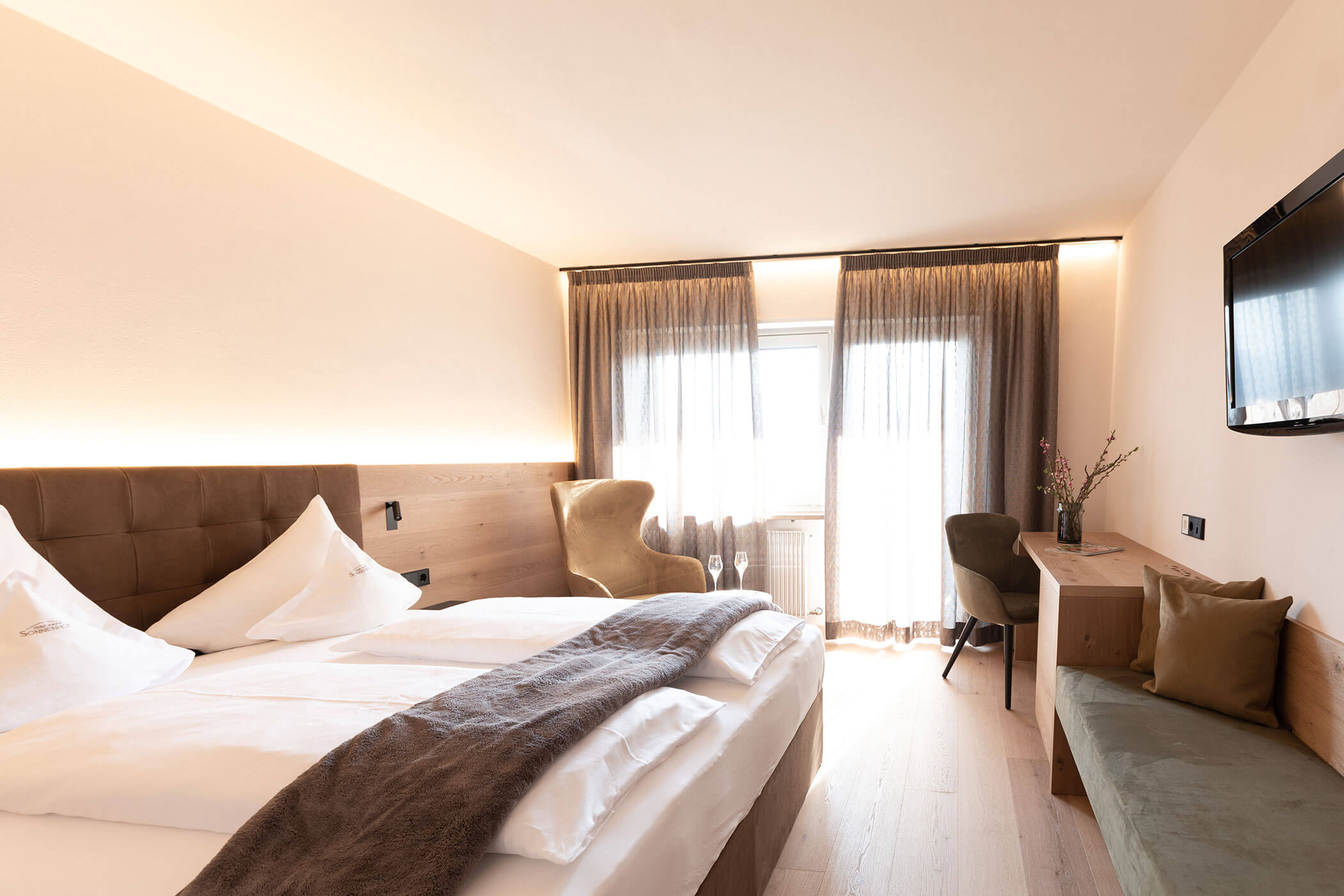 Gantkofel
Double room
2 persons (22 m²)
from € 125

per person including half board plus
Weißhorn
Panorama room
2 to 3 persons (25-29 m²)
from € 130

per person including half board plus
Mutspitz
Double room
2 persons (24 m²)
from € 122

per person including half board plus
Spronsersee
Loggia room
2 to 4 persons (27-30 m²)
from € 134

per person including half board plus
Ifinger
Panorama room
2 to 3 persons (25 m²)
from € 125

per person including half board plus
Hochwart
Double room
2 to 3 persons (26 m²)
from € 125

per person including half board plus
Pfitschkopf
Double room
2 to 3 persons (25 m²)
from € 112

per person including half board plus
Kapelle
Double room
2 to 3 persons (30 m²)
from € 130

per person including half board plus
Hirzer
Single room
1 person (16 m²)
from € 130

per person including half board plus
The prices quoted are per person and day including Sonnenhof half-board plus.
Not included in the price is the local tax of € 2.10, which is charged per day and person (from 14 years) and collected on site.
Reductions for children
Price per day, in a room with two full paying adults:
Season A
(07.04.-01.05.24, 02.06.-20.07.24) up to 3 years free
3–6 years 30 €
6–10 years 40 €
10–16 years 50 €
Seasons B + C
(28.03.-07.04.24, 01.05.-02.06.24, 13.10.-03.11.24, 20.07.-13.10.24) up to 3 years free
3–6 years 35 €
6–10 years 45 €
10–16 years 55 €
Upon request we can offer combined family rooms (2 double rooms with connecting door) for 2 adults and 2 children (depending on category and age of children 380.00 – 450.00 € per day)
Your booking becomes binding once you have placed your booking order in writing and we have confirmed it in writing.
Deposit
We ask for a deposit of 30 % of the booked value for fixed reservations.
Hotel Sonnenhof
Via Caines 43
39010 Caines
Raiffeisenkasse Passeier
IBAN: IT81 L 08998 58750 000302225620
SWIFT-BIC: RZSBIT21226
Cancellation conditions
Cancellations up to 30 days before the arrival date are free of charge.
From 30 to 3 days prior to arrival we charge 70% of the booked price.
For cancellations 3 days or more before arrival, no-shows, early or late arrivals, we charge 100% of the agreed price.
Holiday cancellations are inconvenient for all concerned. That is why we advise you to take out travel cancellation insurance.
Payment methods
You can pay your bill by bank transfer, credit card or cash.
Your dog is welcome to accompany you on holiday, subject to prior arrangement. Please understand that your dog is not allowed into the common rooms, the wellness area and the sunbathing lawn. Your four-legged friends are welcome in the bar area – also for dinner with you. We charge 10.00 € per day (without food), and an additional 25.00 € for any final cleaning that may be required.
Check-in / Check-out
The rooms and suites are ready for occupancy from 2 pm on the day of arrival.
On the day of departure we ask you to vacate your room by 10 am.
Non-smoking
The entire hotel, including rooms and suites, is non-smoking. Smoking is only permitted outside.